The Great Gun Buyback was a one time event script which took place on October 3rd 2020, in which all players who previously owned at least one colored gun skin, received two special exclusive skins; the Hellfire SMG gun skin and the Frozen AK gun skin. Additionally all previously owned basic gun skins were converted to a random cosmetic item of the same tier.[1] Special weapon skins such as the Lucky Hunting Rifle were unaffected by this, and remained in the player's inventory, if they already owned it.
Pixile hosted a community survey to determine how exactly they should go about revamping the system in which players earn their gun skins. The results of the survey, and more details can be found here.
Players are now instead, able to earn gun skins by completing the challenges for that gun by earning a certain amount of kills with that weapon to earn a new gun skin.
Special skins
[
]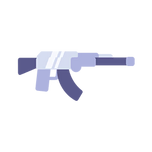 Rare
Frozen AK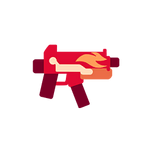 Epic
Hellfire SMG
Gallery
[
]
References
[
]