Super Free Edition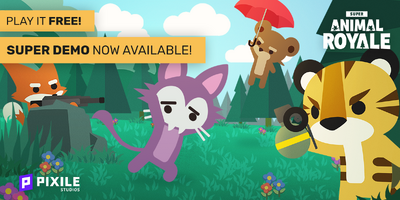 Super Free Edition (formerly Super Demo) is an unlimited free version of the game that players can play to "try before they buy". Progression earned while playing will carry over to a purchased copy of the game, should the player decide to buy the full version. Progression includes earned XP, Animal DNA and Super Serum, as well as any unlocked cosmetics.
The owners of Super Free Edition can play all modes of the game, but they are unable to join Steam lobbies. They may still join Discord lobbies.
Super Free Edition players are restricted to four Animals given to all players for free -

Fox,

Bear,

Skullcat and

Tiger. They cannot unlock other animals and breeds, nor use cosmetics (e.g. Apparel, Weapon Skins, Emotes), which are reserved for purchasing the game.