Super Animal Royale Tonight
Super Animal Royale Tonight (SAR Tonight) is a Super Animal Royale (SAR) in-universe news program. Videos of five episodes of SAR Tonight were posted to the Super Animal Royale "Store page" on Steam. They were presented as five of the standard video trailers used to provide previews of games on Steam, and were presumably created by Pixile, the same software development company which created Super Animal Royale.
The format of the SAR Tonight program is that of a live sports news broadcast, such as the ESPN program SportsCenter. The two hosts sit at a newsdesk, with a video monitor on the wall behind them. The hosts are Donk Patrick, a donkey character, and Howl Michaels, a monkey. These two animated characters share the same art style as the animal avatars of the players in the SAR game. Donk Patrick delivers the news dialog, and Howl Michaels provides commentary. Patrick speaks English (interspersed with occasional natural donkey-calls; their occurrence seems to be an involuntary mannerism), while Michaels speaks in unintelligible monkey-like chatters, although Patrick understands him (and, if one listens closely, one can distinguish, in the monkey-chatter of Michaels, the corresponding English syllables of the words that Patrick interprets).
Most of the duration of an installment of SAR Tonight is used to replay a series of video clips of recent SAR matches. These matches feature members of the online-gaming public, and seem to have been recorded by them, themselves, and then submitted to Pixile. Several clips seem to feature segments of the gameplay of gamers who are live-streaming their gameplay, on a website such as Twitch or YouTube.
During their commentary, the hosts of SAR Tonight refer to the in-universe geography, culture, and history of the SAR game world. Patrick often mentions the island, where the game is set, and he describes the closing of one of its main attractions: the Super Animal World Safari Park.
The following cosmetics are the rewards for participating and being chosen to be included in an episode of SAR Tonight. The winners may claim a maximum of one winner reward per episode, but there are exceptions. Anyone who played a Super Animal Rebellion member at the end of episode 3 can get the Rebellion Helmet.
Special
SAR Tonight Umbrella
Winner Reward
Special
SAR Tonight Microphone
Winner Reward
Special
Tiger Silhouette T-shirt
All Participants of Ep. 1/2 Get
Special
SAR Tonight Tee
Winner Reward
Special
Donk Tee
Winner Reward
Special
Howl Tee
Winner Reward
Special
Golden Video Jacket
Winner Reward
Special
SAR Tonight Cap
Winner Reward
Special
Fox Silhouette T-shirt
All Winners of Ep. 3 Get
Epic
Rebellion Helmet


Level 100
or given to players who played a rebellion member in episode 3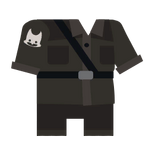 Legendary
SAW Security Uniform


Level 200
or given to players who helped film escape scene in episode 4
Rare
SAW Helmet


Level 50
or given to players who helped film escape scene in episode 4
The names of the hosts, Donk Patrick and Howl Michaels, are allusions to the prominent real-world sports journalists Dan Patrick and Al Michaels, although the SAR characters do not impersonate their namesakes.
The in-universe store Earporium sponsored episode 2 of SAR Tonight; the Earporium is a location that players will find in the S.A.W. Welcome Center.
At least one broadcast of SAR Tonight was violently interrupted by animals who claimed to represent the Super Animals Super Resistance.
The in-universe factory Super Milk Bar that sponsors episode 5 is located in the Super Animal Farm. This advertisement was used to announce new content (the Super Cow and its breeds) from the next game update.