Pete's Swamp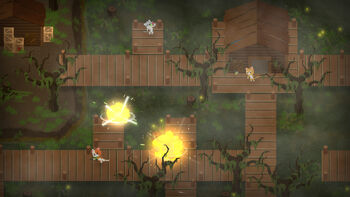 Pete's Swamp is one of the locations available to land/visit in Super Animal Royale, located on the southern end of the island, east of the S.A.W. Welcome Center. It features lots of interconnected boardwalks that span over the marshes.
Floor loot is very common throughout the swamp's traversable walkways. Small huts can also be found connected to the boardwalks and scattered around the swamp's banks.
The in-game map refers to the swamp as "Pete's Swamp," likely in reference to Pete, who is confirmed by the developers to be a Sloth. According to Michael, Pete is another developer Clogg[verify]. Pete's significance to the lore of the game is currently unknown, though Pete's Song from the OST is also likely in reference to him.