Mushroom
Details

Location(s)

Forest areas, near pine trees and rocks
5 HP
10 HP with
10 HP
Mushroom is a consumable pickup that heals the Animal by 5 HP (Hit Points) upon interaction, being consumed in the process. An animal mounting a
 Giant Emu can make it peck the Mushroom, which will restore 10 HP to the Emu. Mushrooms can be found around forest areas across the island, near pine trees, and rocks. In comparison to Health Juice or Campfire, it restores health immediately; acting the same as limited-time event consumables.
Super Milestones
[
]
Three items can be unlocked by reaching milestones of mushrooms munched.
Rare
Mushroom Shirt
75 Mushrooms Munched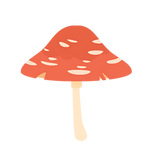 Epic
Mushroom Umbrella
150 Mushrooms Munched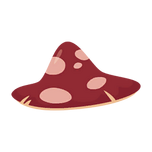 Epic
Mushroom Cap
750 Mushrooms Munched


Gallery
[
]
Patch History
[
]
Mushroom spawn chance has been increased from 28% to 40%.