Guides/Troubleshooting/ko
이 페이지는 Super Animal Royale에서 가장 자주 보고된 모든 버그를 해결하기 위한 방안을 제시합니다.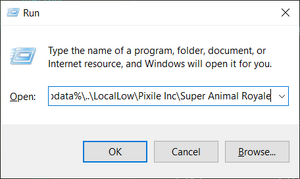 게임 충돌 또는 게임 중단 버그가 발생한 경우 먼저 로그 파일을 찾으십시오. 이 파일은 다음 경로에서 찾을 수 있습니다.[1]:
윈도우즈: %appdata%\..\LocalLow\Pixile Inc\Super Animal Royale\output_log.txt
맥: ~/Library/Logs/Unity/Player.log
만약 윈도우즈를 사용하신다면, 다음의 단계를 따르십시오:
⊞ Windows+R 키 누르기
%appdata%\..\LocalLow\Pixile Inc\Super Animal Royale 복사후 박스에다 붙여넣기
'확인' 클릭

그런 다음, 오류 메시지를 읽고 아래를 참조하십시오
Fatal error in gc
GetThreadContext failed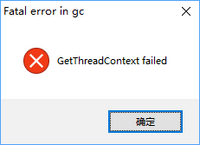 해결 방안 : 바이러스 백신 소프트웨어의 신뢰할 수 있는 목록에 게임을 추가하십시오. 작동하지 않으면, 비활성화하거나 제거하십시오.
D3D11: Failed to create RenderTexture (0 x 0 fmt 27 aa 1), error 0x80070057
스팀 라이브러리에서 Super Animal Royale를 우클릭 하십시오.
"속성" 클릭
"시작 옵션 설정..." 클릭
-screen-width 1920 -screen-height 1080(모니터 해상도에 맞는 숫자를 넣으셔도 됩니다.) 붙여넣기 후 "확인" 클릭
게임을 다시 시작하고 해상도를 재설정하고 앞에서 설명한 단계에 따라 시작 옵션을 삭제하십시오.
IndexOutOfRangeException: Array index is out of range. at UnityEngine.Display.RecreateDisplayList (System.IntPtr[] nativeDisplay) [0x00000] in <filename unknown>:0
Open NVIDIA Control Panel
Select "No scaling" in Select Display -> Adjust desktop size and position then click "Apply"[2]
InControlNative.dll caused an Access Violation (0xc0000005)
Solution: Delete InControlNative.dll in your game installation path
Location: <Game installation path>\Super Animal Royale_Data\Plugins\InControlNative.dll
Side effect: You might not be able to use your controller to play this game after deleting this file.
Initialize engine version: 2017.3.0f3 (a9f86dcd79df)
GfxDevice: creating device client; threaded=1
Solution: Uninstall Citrix workspace or use another computer to play the game.
If this information doesn't solve your problems, please connect to #sar-bugs on SAR Discord to get help.
Only title bar is displayed
[
edit
|
edit source
]

Right click "Super Animal Royale" in your Steam Library
Click "Properties"
Click "Set launch options..."
Paste -screen-width 1920 -screen-height 1080(You can adjust the numbers according to your resolution) and click "OK"
Restart the game and reset the resolution, and delete the launch option following aforementioned steps
Possible resolutions: Disable Asus Sonic Studio 3[3] or Nahimic[4]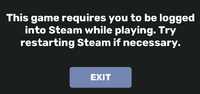 Solution:
Launch the game in Steam
Restart Steam, then restart the game
If you're using Mac, and previous steps haven't solved your problem:

Open Finder
Press ⇧ Shift-

⌘

Command-G
Paste ~/Library/Application support/Steam/Steam.AppBundle/Steam/Contents/MacOS/package/ and press "Go"
Rename the "tmp" folder to "tmp~"
Restart Steam, then restart the game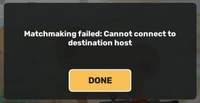 Including but not limited to:
Matchmaking failed: Cannot connect to destination host
Matchmaking failed: Received no data in response
Matchmaking failed: Request timeout
Matchmaking failed: Servers are not active
Cannot matchmake, missing player info.
Disconnected: Failed to establish connection - no response from remote host
Error: Lobby was unable to join a match.
Error: Discord lobby was unable to join a match.
Error: Discord lobby matchmaking failed.
Try again
Restart the game
Reboot your computer
Verify your have network connectivity

Make sure your DNS servers are working properly
Check firewall and security software settings
Make sure ports 32168, 8192-8400 are open
Verify that you are able to ping the servers for your region:
Connect to #sar-bugs on the SAR Discord server to get the current relevant IP address.
Current IP address (July 13, 2019):

NA: 63.251.241.206
EU: 185.225.209.35
AS: 103.102.162.82
Here are some things to try if Super Animal Royale does not recognize your controller:
Verify you are not missing specific drivers for your controller
Try enabling Generic Gamepad Configuration Support in Settings -> Controller Settings -> Generic Gamepad Configuration Support
Blank Box in Steam When Installing
[
edit
|
edit source
]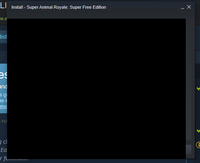 A blank looking box may pop up when attempting to install Super Animal Royale.
This can possibly resolved by hitting the space bar a few times in order to proceed through the hidden menus.[5]
Currently Discord invites are rather finicky and crash a lot. The SAR devs are currently working with Discord devs to find a fix for the issues.[6]
Firstly, the person inviting needs to have game activity enabled and have status set to Online on Discord. To check if you have, click on your profile in discord, while the game is running, and make sure that discord shows the game. If it doesn't show the game, make sure to enable game activity under User settings> Games> "Display currently running game as status message". Discord Overlay does not need to be enabled.
Further Discord Troubleshooting Steps
[
edit
|
edit source
]
The following solutions helped users fix problems with discord, try any of those:
The invite button will only appear in channels where you have permissions to "Attach Files". Therefore, try to send an invite in DMs.
Close the Epic Games Launcher.
Close SAR. Open steam, right click on Super Animal Royale> Properties> Local Files> Verify Integrity of Game Files. Start SAR.
Close SAR. Reinstall Discord. Start SAR.
Restart the PC.
Close Discord (via the task bar) and SAR. Right click on the Discord start menu entry> Run as administrator. Start SAR.
Click the + button on the Discord Client.
If you get a matchmaking failed, or the lobby desyncs, reopen the lobby or restart the game/Discord and try again.