Coupon codes are special codes that you can enter to redeem exclusive cosmetic items. Some codes are permanent, some are only active during their respective times of the calendar year, and some are gone forever.
Active Codes
[
]
These codes are currently active, and can be used once per account.
Seasonal Codes
[
]
These are seasonal codes which activate around their respective times of the calendar year
Expired Codes
[
]
The following coupon codes have expired and can no longer be used.
How to Redeem
[
]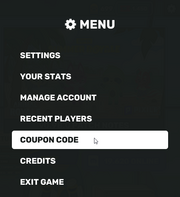 To redeem a code, open the game, click the cogwheel in the top right corner, click on coupon code, enter the code, and select enter. Your new items will be added immediately and you will receive pop ups for each item along with an ! on the Customize section of the main menu.
Other Codes
[
]
Coupon codes not shown on this page are private & are only sent to those who have fulfilled the various requirements whether it's from a partnered giveaway or becoming a Content Creator for Super Animal Royale.
Gallery
[
]
Notes
[
]
Codes shown are not case sensitive.
Some items may be associated with popular content creators or super content creators
Items redeemed through the codes shown at the top of this guide or private codes are linked to your SAR account. So you don't need to re-enter them if you have 2+ platforms linked to the same SAR account.
The code Freak is time sensitive. After May 6, 2022 at 12:00 am PT, the code is expired & the item may reappear in the shops.