Guides/Coupon Codes
Updated: 4/9/2021
These codes are non-expiry and good to use, but for one-time only per account.
These are seasonal codes which activate around their respective times of the calendar year
CRISPRmas: Santa Hat & Santa Outfit
NEWYEAR: Party Hat and Dress
HOWLOWEEN: Howl mask.
CANADA: Mountie Outfit, Mountie Hat & Hockey Stick.
USA: Uncle Sam Outfit, Stars & Stripes Hat, and Stars & Stripes Baseball Bat.
DAYOFTHEDEAD: Mariachi Outfit & Mariachi Hat
SAKURA: Sakura Kimono, Sakura Fan and Sakura Umbrella.
The following coupon codes are no longer able to be used in-game.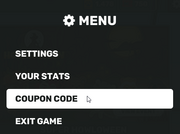 To redeem a code, open the game, click the cogwheel in the top right corner, click on coupon code, enter the code, and select enter. Your new items will be added immediately and you will receive pop ups for each item along with an ! on the Customize section of the main menu.
Coupon codes not shown on this page are private & are only sent to those who have fulfilled the various requirements whether it's from a partnered giveaway or becoming a Content Creator for Super Animal Royale.
Codes shown are not case sensitive.
Some items may be associated with popular content creators or super content creators